The Waterloo Arts Festival is an annual celebration across several art disciplines all based on a theme. This year's one was Transforming Communities. Previous topics have been Transforming Being and To Be…To Become.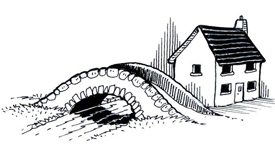 For the last three years, there has been a writing competition as part of the Festival and Bridge House Publishing have been the sponsors behind this. I've been privileged to have had winning stories in all three ebooks produced. Each ebook is a compilation of the fifteen winning entries in each year.
Books and The Barbarians
My story this year for Transforming Communities was called Books and the Barbarians and was great fun to write. I took as my theme here that books transform in so many ways, both in terms of individuals discovering the joy of books, and whole communities being transformed from illiteracy to literacy. The nice thing with this tale was being able to inject humour into it too.
I read a short extract on the video I produced for the Festival which I include here. There are several links on the Waterloo site where there is a video by an author reading part of their story and a text extract from another writer so plenty to dip into and I would say check them out. The variety is good.
Later in the year, there will be a paperback produced of all three ebooks produced so far. Physical books have to have a set number of words to be able to produce a spine which is why a paperback has not been available so far. Naturally I look forward to the paperback coming out but meantime I am glad to celebrate the launch of the ebook.
This slideshow requires JavaScript.
Changes of Plan
Normally, I would have gone to London and taken part in the writing event of the Festival there. The decision was taken early on in lockdown to transfer the whole of the Festival online and that has proved to be a good move. (I won't be going to Swanwick this year as that has been cancelled. My booking rolls over to next year though so I shall be looking forward to August 2021 immensely!).
So back to good old Zoom then for holding a Festival. Did it work? Oh yes.
The Joy of Smart Phones!
I was amused by Chippy's recent article on smart phones. I held out against having a smart phone for a long time but now wonder how I managed without one. I am teased about that by my better half at times! What changed my mind? Seeing the use I could put the technology to, basically.
So, Chippy, I totally understand your reasons for not going for a smart phone but I am pleased to say I do use the technology on a smart phone and have done for this Festival. I used the smart phone to create a video of my reading an extract from my winning story and saying a little about myself too. I could not have done that with my old Nokia!
So technology has its uses and has helped many writers out. The events we would usually have gone to have been cancelled but Zoom and smart phones have meant we can still "meet" friends online, can still have reading and writing events etc. There were about 30 people at the Waterloo event for example. Many of the winning writers talked about what inspired their story as well as reading an extract.
This slideshow requires JavaScript.
How did an online Festival work?
So how did this year's writing event at the Festival work out? I thought it worked well.
Gill James of Bridge House Publishing introduced us to Euchar Gravina who was hosting the event on Friday night on behalf of the Arts Festival. Gill then talked about Bridge House Publishing's involvement with the Festival and how this year's theme was developed. She then handed over to Debz Brown who talked about how the winning stories were chosen and why. Debz also discussed that as well as picking individual stories, these also have to work as a collection.
The stories in Transforming Communities are very diverse (as they were in previous Waterloo collections) and I love that. This has proved a theory I've held for a long time. No writer is in competition with another. Really? Yes! Why do I say that?
Simply because we all had to write to the same word count (1000 words max) and the same theme yet the collection is made up of fifteen different stories by fifteen different writers. Every writer has their unique voice and this really does come across. Mine has my sense of humour coming through in it. Other stories are more thoughtful but the balance between funny and thoughtful works really well. It is what I like to see in collections, whether I'm in them or not!
The one thing that encouraged us all was that entries to the competition were all very high, all were publishable, and that it was a pleasure from BHP's viewpoint to work with the stories. (We all like a pat on the back to say well done every now and again! I refuse to believe I'm alone in that!).
This slideshow requires JavaScript.
Writers Predicting the Future?
One thing Gill mentioned which kind of gave me the creeps a bit (but in a good way – read on!) was that writers can sometimes pick up on undercurrents in the world around us which feeds into our stories. Don't ask any writer how we do it. We really don't know but we write something that is relevant to our stories and somehow life then reflects it.
The entries for the competition had to be in with BHP long before lockdown was a reality and yet in so many of the extracts read out, the themes of lockdown, isolation etc were coming out. Even my humorous story came out with it when part of my tale reads "….. It'll give us something useful to do this winter instead of fighting amongst ourselves because we're cooped up.". Hmm… I swear I had no idea we would all be cooped up to some extent when I wrote that! Honest!
Writers do know this can happen. It can unnerve us at times. I guess it is a case that the creative arts mirror life as it is lived AND as it could be lived and sometimes the latter then goes and happens! Better to be a writer of humorous rather than dystopian fiction here I think then!
Judging
Once the extracts were read, there was an update on BHP news. By the time this post goes live, they will have chosen their stories for the next anthology and as I draft this on Sunday evening (14th June), I'm keeping my fingers crossed over that as I submitted a tale for that too. (Just heard – my story It is Time will be included in this anthology).
Oh the other thing that was different for the BHP anthology due out later this year was that entries were judged anonymously. I've recently been a co-judge for the Association of Christian Writers' Flash Fiction competition and entries were judged anonymously for that. It is a good way of doing it. The judges want to just read and evaluate the entries. The names of the writers don't actually help!
Later, when you find out who won, who came second etc., that is nice but the only thing which matters is the quality of the story. And it is easier to focus on that when judging is done anonymously. It also makes the whole process of judging as scrupulously fair as it is possible to be.
This slideshow requires JavaScript.
Useful Zoom Features
One other thing to emerge from the Festival being online was that using the Chat function on Zoom (at the bottom of the screen) was useful. It meant people could send in responses to the story extracts being read. Many thanks to those who liked mine but it is quite unusual, outside of an Open Mic live session, to get immediate feedback on your work. It also meant questions could be sent in to BHP and dealt with as the evening went on too.
Gill James also split the screen so she could play us all the trailer for Transforming Communities. See the link and I hope you enjoy it. Each line reflects each story and we all hope makes for a good "taster".
Book Trailer for Transforming Communities
Conclusion
So did I miss going to London? Yes, in that it is always lovely to meet up with friends and fellow writers in person but was the Zoom event a good work around? Yes.
Did the Zoom Festival work well? Yes. And I hope it is something that can continue in future to run alongside the physical event. I think it would make the Festival and other events like it far more accessible for where transport can be an issue. Even if you are physically at an event, you could perhaps play back an event later. You never take in everything in one hit at these things so you can catch up on things you missed first go too.
But every writer hopes the events we would normally go to (taking our books for sale with us of course), do happen as normal next year! Here's hoping!
This slideshow requires JavaScript.
Related Posts:
Reading Aloud Allowed (and Local Author News: Allison Symes)
Read interviews with Chandler's Ford writer Allison Symes: Part 1 and Part 2.
Read blog posts by Allison Symes published on Chandler's Ford Today.
Never miss out on another blog post. Subscribe here:


Subscribe to Blog via Email